Asian Seniors PGA Tour Q School Vietnam (Dalat) – Mon 4 to Thu 7 July 2011

ASM @ Vietnam (Dalat) – Sat 9 to Tue 12 July 2011

ASM @ Malaysia (Kuala Lumpur) – Fri 15 to Tue 19 July 2011

ASM @ Indonesia (Medan)– Fri 22 to Mon 25 July 2011

ASM @ Singapore – Wed 27 and Thu 28 July 2011

ASM @ Indonesia (Batam) – Fri 29 to Sun 31 July 2011C

ASM @ Cambodia (Siem Reap) – Sat 22 to Tue 25 October 2011

ASM @ Vietnam – Sat 29 Oct to Wed 2 November 2011

ASM @ Taiwan (Taipei) – November 2011

ASM @ Thailand (Bangkok) – December 2011

Asian Seniors PGA Tour Q Schools are also conducted during each of the various ASM tournaments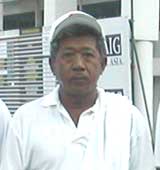 Thailand's Amphon Maneerat captures 1st overseas victory at the
2006 ASM Singapore staged from 8 - 10 November 2006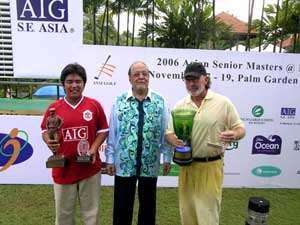 Australia's Stewart Ginn - (right) receiving his trophy from Malaysia's Sports Commissioner - Tan Sri Elyas Omar - (center) with the 2006 ASM @ Malaysia amateur Chapion Ilya Jamal - (left)

Stewart Ginn Retains ASM Malaysia title in Sudden Death Playoff against Thailand's Amphon Maneerat at the 2006 ASM @ Malaysia - KL staged from 17 - 19 November 2006 - please click links for full details.

Top 3 places and a clean sweep for Taiwan at the 2006 Asian Senior Masters @ Phuket - Thailand staged from 25 - 27 April 2006 at the Phuket Country Club.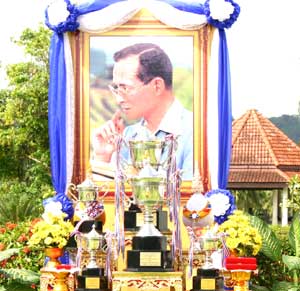 The King Bhumibol Adulyadej Cup kindly presented by His Majesty, bearing the Royal Crest.

This significant honour has never before been bestowed upon a golf tournament and His Majesty's kind & generous support is greatly appreciated by all sponsors, & participants at the 2006 ASM @ Phuket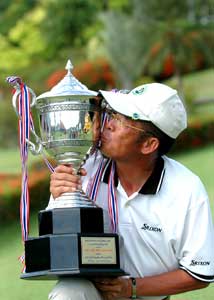 Photo 2006 Asian Senior Master @ Phuket - Champion, Chung Chun Hsing kisses the
King Bhumibol Adulyadej Cup


Chung Chun Hsing's Taiwanese compatriots Chang Chin Kuo and Chen Tsang Te finished second and third respectively, making it a top 3 podium finish and a clean sweep for Taiwan!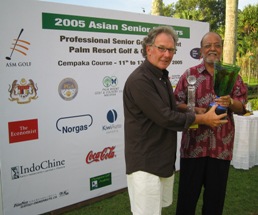 Stewart Ginn (left) winner of the 2005 ASM @ Palm Resort receiving his Trophy from
Tan Sri Elyas Omar - the Sports Commissioner of Malaysia


Stewart Ginn won the 2005 Asian Senior Masters tournament at Palm Resort Golf and Country Club today without ever having lost the lead. Ginn completed the tournament with a two-over par final round of 74 for a 54-hole total of 219.


As predicted, his nearest challenger, Randall Vines managed to creep up the leader board to tie Ginn, at three-over par, when Ginn dropped a shot at the par-4 13th hole. Although Randall Vines eventually went on to complete his round with a one-over par 73, one better than Ginn's final round of 74, his final-day performance was not quite enough, as he finished two shots behind Ginn's final three-round total of 219.

Third place was shared by two players, following a tie between John Williamson (New Zealand), with a final round of 76 for a 224 total, and Brian Jones (Australia), who made a late rush with a final round one-under par score of 71, also for a total of 224. Cheng Tsang Te (Taiwan) finished in fifth place with a three-round total of 225, followed in sixth place by Richard Ellis (New Zealand), who equaled the best score of the day (71) to finish with a 226 total. Others tied at 226 were former Malaysian Seniors Open Champion, John Clifford (Australia), along with Reynaldo Alit (Philippines) and Taiwanese legend, Hsieh Min-Nan

In his first appearance on the Asian Seniors Tour, Malaysia's rising seniors star, M. Ramayah, finished with an impressive tenth position, with a 54-hole total of 227.

The clash of the rising stars of the future saw no let up, as Feldman Tan from SICC proved that his performance throughout the week was no 'flash in the pan', completing an arduous week with another impressive amateur performance of a 77 on an extremely testing 7,065 yard course, to take the ASM Amateur Championship title by one shot from Ng Yau Loong from Royal Johor GC. Paul Lim from Palm Resort GCC took third place with an 81, followed by the very impressive 14-year old, Lion Goh from Laguna National GCC, who carded an 82. Click HERE to view the 2005 ASM @ Palm Resort results page.

Tan Sri Elyas Omar, the Malaysian Commissioner of Sports closed the day by thanking all concerned and pledging the full support of the Ministry of Sports for the proposed 2006 Asian Seniors Tour event in Malaysia.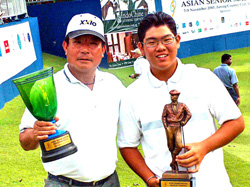 Choi Yoon Soo (left) won the 2003 Asian Senior Masters - Singapore with
Singapore's leading amateur, Choo Tze Huang (right) who won the
2003 ASM Amateur Championship with a fine score of 72.


Choi Yoon Soo from Korea defeated Canadian John Irwin on the first hole of a sudden death play-off, sinking a 3 metre putt for a birdie on the par 5 18th to clinch the inaugural Asian Senior Masters.

Tied for third were first round leader John Terry Gale from Australia, second round leader South African Tienie Britz and John Benda from the USA.

They were followed in sixth place at 2 under by Mike Ferguson from Australia, Kuo Chie-Hsiung from ROC Taiwan and Mario Siodina from the Philippines.

Asian Senior Master golf tournaments are International Senior Professional golf tournaments, preceded by up to 6 ASM Pro-Am events, where sponsors are able to spend quality time with and entertain their VIP customers, colleagues and business associates, in an exclusive environment, whilst on a corporate level enjoying the many on course branding opportunities, accompanying TV, print media publicity and PR opportunities and other benefits that are derived from their sponsorship participation in the event.

ASM tournaments involve up to 105 senior professional golfers, from all around the world, competing over 3 days for a minimum of US$ 100,000 in prize money, visit www.singapore.com/eventinformation.asp or click HERE for more information.

For an overview of the ASM event week please click HERE


Title Sponsorship of a US$ 100,000 purse ASM golf tournament would require a US$ 250,000 sponsorship commitment per tournament. For more summary details about Title Sponsorship click here for full details please click here

The appointment as the Presenting Sponsor of an ASM event would require an investment of US$ 125,000 and would provide the sponsor about half the benefits accorded to the Title Sponsor. For more information about Presenting Sponsorship click here and for full details please click here

Should the Title Sponsor desire to sponsor an ASM event with higher stature and prize money, such as a
US$ 250,000 prize purse event, making their ASM event the largest Senior Professional Tournament in Asia outside of Japan, this would require a US$ 400,000 sponsorship investment.

Sponsoring a US$ 500,000 prize purse ASM event, would make their ASM event 3rd largest purse on the European Seniors Tour, and would require a US$ 700,000 sponsorship investment.

For more information about ASM Pro-Ams click HERE

Visit www.asm-singapore.com/newsdetails1.asp?NewsID=933 or click HERE to view the wide range of Corporate Sponsorship packages available.

We remain most grateful to you all and wish to THANK YOU! individually, corporately, and collectively for your kind past and on going support, encouragement, and participation!

See you at the next Asian Senior Masters golf tournament!

Sincerely yours,


Click to email Chuan Campbell - Managing Director

Click to email Matthew Murray - Tournament Director

ASM Golf Pte Ltd / Asian Seniors Tour Pte Ltd
144 Bukit Timah Road #08-02, Singapore 588177
Tel: (65) 6469 9760
Fax: (65) 6469 9412