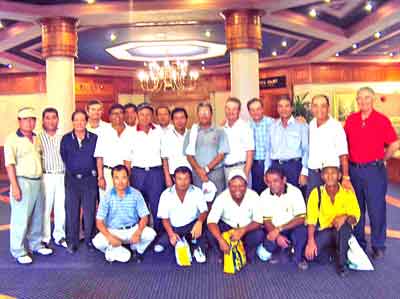 Representatives from the Singapore PGA, Thailand Seniors PGA, Philippines Senior PGA, ROCPGA, Japan PGA, Korean PGA, Australian PGA and Hong Kong PGA met at the inaugural 2003 Asian Senior Masters - Singapore to discuss and confirm the birth and launch of the Asian Seniors Tour - AST.

The AST Secretariat to be based in Singapore, hopes by 2004 - 2005 to have between 3 and 4 events, and by 2006 - 2007 is envisioned to have expanded even further.

The confirmed AST events that will be held in 2004 - 2005 are to be in Taiwan, Korea, and Malaysia, with discussions still underway with sponsors and tourism authorities for 2006 - 2007 events to be staged in Singapore, Thailand, Australia, South Africa, Malaysia, Brunei, Indonesian, the Middle East and China.

The AST Secretariat's Director's Matthew Murray and Chuan Campbell will manage and coordinated the Asian Seniors Tour growth and development via the AST's appointed events management company, ASM Golf based in Singapore.

The basic staging budget required in order to stage a US$ 100,000 ASM event is only US$ 300,000 and includes TV production and airtime.

Please contact Matthew Murray should your company country and or tourism authority have a desire to stage and or sponsor an ASM event any where in the world!